Southern Maryland Dining Guide
How To Shuck & Eat An Oyster
Did you know that Southern Maryland is the Oyster Shucking Capitol of the World? Every year people come from all over the world to attend the Oyster Festival and enter the National Oyster Shucking Championship, held right at the Leonardtown Fairgrounds. Sure, its a lot easier to buy a pint of oysters at the seafood market already shucked, but here's your chance to impress your friends with your knowledge of local traditions. Who knows - maybe you could be a champion shucker yourself!
Tools needed:

an oyster knife or any sturdy blunt knife
a small towel
Neosporin (because you probably ran out of Bactine picking crabs)

Condiments:

cocktail sauce (if you're having them fried or broiled)
not a darn thing (if you're eating them raw)
Okay, maybe some lemon wedges.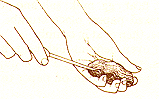 First step: Hold the oyster firmly in one hand, knife in the other. Slip the knife blade between the top and bottom shell right by the hinge on back. The person in this picture is holding the oyster with her bare hands - WE DO NOT RECOMMEND THIS! Drape a towel over your open palm and hold the oyster that way - the shell ridges are sharp!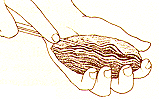 Step 2: Run the knife the way around the oyster until you get to the other side. This sounds easy until you're actually doing it! Some oysters just don't take kindly to people sticking knives in their shell. Be brave and put some muscle into it, but be careful - this is where you'll cut or stab yourself.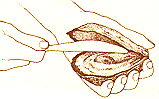 Step 3: Using a twisting motion, pry the top and bottom shells apart. Be gentle but firm so you don't lose any of the liquor inside.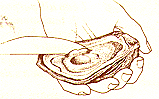 Step 4: Cut the oyster free from his shell. He'll be connected by a tough knob on his underside; slide your knife under and sever it. You can either go to the trouble of setting down your blade and using a little fork to pick the oyster out, or you can do like the natives do and just scoop him with your knife and pop him in your mouth. Drink the liquor out of the shell.
Shucking oysters is a little more gratifying than picking crabs because there's less work and more meat. Some will disagree about the level of difficulty in parting an oyster with his shell, but if you do it right you can escape with your hands still intact and a nice lump of oyster in your tummy! For more information on Oysters in Maryland, please visit the Maryland Department of Natural Resource's (DNR) information page.
| Home | Help | Contact Us | About somd.com | Privacy | Advertising | Sponsors | Newsletter |
| What's New | What's Cool | Top Rated | Add A Link | Mod a Link |
| Announcements | Bookstore | Cafe | Calendar | Classifieds | Community |
| Culture | Dating | Dining | Education | Employment | Entertainment | Forums |
| Free E-Mail | Games | Gear! | Government | Guestbook | Health | Marketplace | News |
| Organizations | Photos | Real Estate | Relocation | Sports | Travel | Weather | Wiki | Worship |
Use of any somd.com Web site constitutes acceptance of our Terms of Use, Privacy Policy, and DMCA Notice.
Brought to you by Virtually Everything, Inc. ©1996-2016 (RS12), All rights reserved.