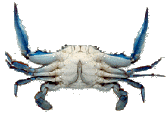 WHAT!?! You live right here in Southern Maryland and can't pick a crab? We can't have that! If you've spent any time here at all, you know that one of the greatest joys of summer is catching and eating crabs, washed down with a big pitcher of beer or iced tea. So whether you buy a bushel from the guy on the roadside or head down to your local crabhouse, here's how you can pick crabs like a native:
Tools needed:

wooden mallet (this is what the pros use, not those silly nutcracker-looking things)
strong fingers (this is a no-utensil dining experience)
Bactine (to put on the cuts you will inevitably get from the shell)

Condiments:

malt vinegar (put it in little cups for dunking)
melted butter (for those who don't like vinegar; BEWARE: makes you look like a city-slicker)
Old Bay (naturally)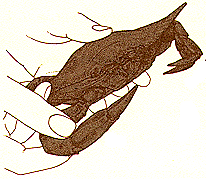 First step: Grab that rascal by the body and break off his claws and legs. Set the body aside and crack the claws with a small wooden mallet. Dig the meat from the claws, dip in condiment and eat. Take the legs and bend them in half until they pop, then suck the meat out.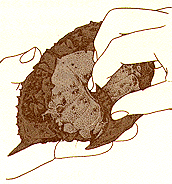 Step 2: Flip the crab over and you'll see what looks like a little pull-tab on his underbelly. Just like you were opening a beer or soda can, pull down to remove the apron.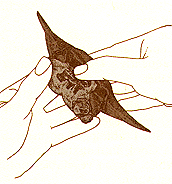 Step 3: Hold the crab in both hands and stick your thumbs between the top and bottom shells, at the bottom where the apron used to be, and pull them apart. Prepare to see some really weird looking stuff.
Step 4: Scrape out anything that looks like you don't want to eat it. This means the yellow gunk (mustard), spongy lungs, deadman's fingers, etc. Just dump it on the table and don't worry about propriety; if you're with veteran pickers, they'll be doing the same thing.
Step 5: Grab the cleaned crab and break him in half. He'll pop easily right down the middle. This picture shows some rookie using kitchen shears for this, but you should just use both hands. You'll see crab meat peeking out of the sides of what looks like little tubes of membrane.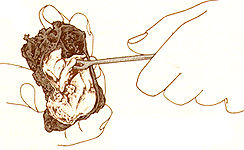 Step 6: "Pick" the crab. Dig the meat out of the little membrane tubes with a little fork or your fingers. Make sure you get it all because you've worked hard to get this far and you should get some meat out of the deal! If it looks like nothing's there, look again - this is the sweetest part of the crab and if you were to buy it in a store it would cost you a fortune.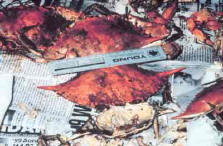 Although few blue crabs in 1999, some grew to large size. A six-inch ruler was not long enough to measure these crabs caught in the Patuxent River.

Location: Patuxent River, Maryland
Photo Date: 1999 July
Photographer: Mary Hollinger, NODC biologist, NOAA
And there you have it! Picking crabs may seem like an awful lot of work for a little bit of meat, but crab picking is more of an entertainment activity than a feeding-yourself activity. Surround yourself with a bunch of pals and dig in! De By God, Cap'n, that's some good eating!
Recommended Reading: