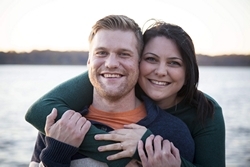 Brianne Cleary of Huntington and Jon Butcher of Owings were married on Saturday, March 02, 2019 in St. John Vianney Catholic Church, Prince Frederick, MD.
The newlyweds spent their honeymoon in Guanacaste, Costa Rica.
They dated while attending Northern High School and didn't see each other again until fate would bring them back together 8 years later. After years of dating again and away on a family trip, Jon proposed to Brianne on the cliffs in Ireland. The cliffs are part of the Aran Islands, Dun Aonghasa. The couple currently resides in their new home in Prince Frederick. The groom will be attended by his brothers and Best Men, Matt and Luke Butcher. The bride will be given in marriage by her father and attended by her sister Eileen as her Matron of Honor. After 14 years to happily "I Do" happily ever after!