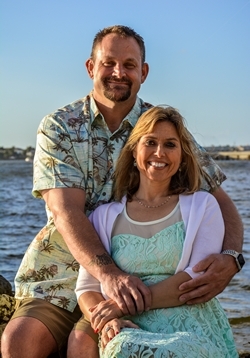 Cynthia Weimer of Bryans Road, MD and Hans Stelzel of Wharton, TX were married on Tuesday, November 20, 2018 in Jupiter, FL on the beach.. The bride is the daughter of Ed and Pam Weimer. The groom is the son of Harvey and Sharie Stelzel.
The newlyweds spent their honeymoon in Mexico for New Year's.
Hans and Cyndi were best friends and childhood sweethearts in elementary school. Hans' family left for Texas in 1984. After 33 years, Hans found Cyndi through Facebook last summer and the spark was reignited after all that time. Within four months, Hans moved from Texas to Florida to be together with his long lost love.