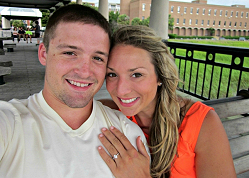 Megan Eicholtz of La Plata and Eric Filipowicz of Elkridge were married on Saturday, February 28, 2015 in The Naval Academy Chapel, Annapolis, MD. The bride is the daughter of David and Nora Eicholtz. The groom is the son of Pete and Sue Filipowicz.
The bride-to-be graduated from Maurice J. McDonough High School and earned a bachelor's of science in Kinesiology from James Madision University. She has been employed through the Department of the Navy as the Fitness Division Director at the Naval Support Facility Indian Head for the past six years.
The groom-to-be is a graduate of McDonogh and earned a bachelor's in Weapons and Systems Engineering from the United States Naval Academy. He is a Nuclear Submarine Officer in the United States Navy.