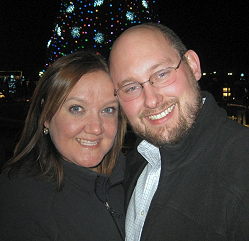 Carrie Timmons of Leonardtown, Maryland and David Burke of Belmont, North Carolina were married on Saturday, December 01, 2012 in AnneMarie Gardens, Dowell, MD. The bride is the daughter of Karen Timmons, Ray and Vickie Timmons. The groom is the son of Stephen and Peggy Burke.
The newlyweds spent their honeymoon in Antigua.
Carrie is a 2002 graduate of Towson University with a B.S. in Elementary Education. She completed her Master's in Educational Leadership through Towson University in 2006 and is currently a Vice Principal for Charles County Public Schools. David graduated from North Carolina State University in 2004 with B.S. degrees in Computer Engineering, Electrical Engineering, and Computer Science and continued on to graduate from North Carolina State in 2007 with a Master's in Computer Engineering. David then received his PhD in Aerospace Engineering in 2010. He is currently employed with NAVAIR.