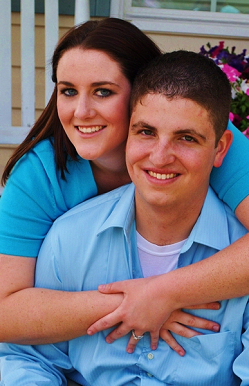 Lindsey Russell of Morganza and Jeffrey Reetz of Mechanicsville were married on Saturday, February 02, 2013 in St. Joseph's Catholic Church, Morganza, MD. The bride is the daughter of Terry and Bonnie Russell. The groom is the son of Ferd and Debbie Reetz.
The newlyweds spent their honeymoon in St. Lucia.
Jeff and Lindsey will be married at St. Joseph Catholic Church in Morganza, MD on 2-2-13 at 2pm. Reception will follow at Bowles Farm in Clements, MD.
Jeff and Lindsey attended high school together at Chopticon High School in Morganza and participated in the marching band together. Jeff lived down the street from Lindsey during this time. After high school, Jeff graduated from The University of Maryland College Park with a Bachelor of Science in Fire Protection Engineering, and Lindsey graduated from Mountain State University in Beckley, West Virginia with a Bachelor of Science in Diagnostic Medical Sonography.
In 2011, Jeff and Lindsey reunited and soon realized that their high school friendship was something more...Jeff proposed later that year after a horse and carriage ride in Central Park, New York City.