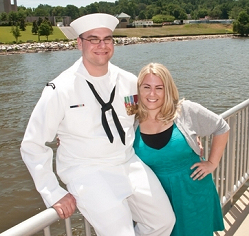 Jannie Walters of La Plata, MD and Craig Daleske of Randall, IA were married on Saturday, November 10, 2012 in Chapel of the Flowers, Las Vegas, NV. The bride is the daughter of Karen Walters & Wendell and Margaret Chappell. The groom is the son of Mark & Linda Daleske.
The newlyweds spent their honeymoon in Las Vegas, NV.
The future bride is a 2006 graduate of Maurice J. Mcdonough High School and a 2010 graduate of Frostburg State University.
The future groom is a 2008 graduate of South Hamilton High School and is currently a Second-Class Petty Officer in the United States Navy.