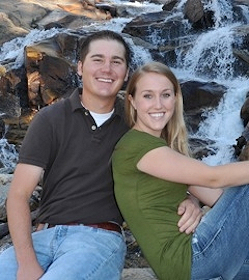 Sarah Phelan of Hollywood, Md. and Rian Bernhardt of Otis, Colorado were married on Saturday, April 02, 2011 in Ellis Ranch, Loveland, Colorado. The bride is the daughter of Tom & Donna Phelan. The groom is the son of Rod & Denise Bernhardt.
The newlyweds spent their honeymoon in Jamaica.
Sarah graduated from Leonardtown High School in 2006 and Colorado State University in 2010. She has degrees in Animal Science & Agricultural Business and is currently working for the United States Dept. of Agriculture in Akron, CO. Rian graduated from Northeastern Junior College in 2007 with an associate's degree in Agricultural Business. He works for Centennial Ag Supply in Yuma, Colorado.