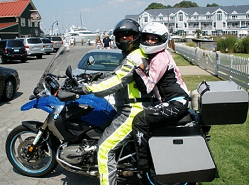 Angela Ledford of St. Inigoes and Micah Reese of St. Inigoes were married on Wednesday, September 09, 2009 in Las Vegas, NV.
The legendary Mr. Micah Reese and the astronomical Ms. Angela Ledford of St. Inigoes, Maryland, unite forces with their dysfunctional family and imaginary friends in announcing their decision to become one massive superpower.
The couple is engaged to be married in beautiful Las Vegas on September 9th, 2009, at the top of the Stratosphere. Webcam will be available for friends and family who are on house arrest or have warrants for their arrest in Vegas and wish to view the ceremony from the comfort of their home.
In addition to the wedding, this crazy couple will be heading to Melwood, where they first met and their love for one another burned like a forest fire that not even Smokey the Bear could handle. They are also planning to take a traditional honeymoon in Tenochtitlan where they are planning romantic evenings searching the pyramids for mummies and hunting the mythical creature known as the Chupacabra.
The couple brings together one of the most awesome unions of all time with the exception of Lyle Lovett and Julia Roberts.
The groom-to-be is a lion tamer at Barnum and Baileys circus and an avid fan of Wile E. Coyote. The bride-to-be spends her time watching Paris Hiltons BFF, drinking 40s and hanging out with her homies.