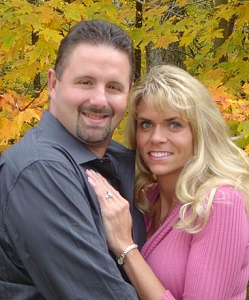 Katrina Powell White of Leonardtown, MD and Robert Robertson of La Plata, MD were married on Sunday, June 14, 2009 in St. Pauls Episcopal Church, Waldorf, MD. The bride is the daughter of James Powell and the late Donna Powell. The groom is the son of Bayne Robertson and the late Elizabeth Robertson.
The newlyweds spent their honeymoon in Orlando Florida.
The Groom received his Bachelor of Science Degree from Towson University in 1995. He is currently the Director of Exhibit Technology for the Smithsonian Institution in Washington D.C.
The Bride received her Bachelor of Science Degree from Frostburg State University in 1994. She completed her Master of Arts degree in Criminology in 1996 from Indiana University of Pennsylvania. She is currently a Professor in the Criminal Justice department at the College of Southern Maryland.