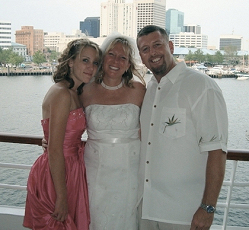 Victoria Lilly of Ridgecrest, CA and David Butler of Virginia Beach, VA were married on Saturday, July 05, 2008 in Chesapeake, VA. The bride is the daughter of Francis & Claire Kinnich. The groom is the son of Peggy & Carl Butler.
The newlyweds spent their honeymoon in Cruise to Bermuda.
With the smoke from the Dismal Swamp fires, we moved the wedding inside the Butler's home in Chesapeake. Many of our friends come down for the wedding. Everything worked out beautifully. With Beach Formal attire, we boarded the cruise ship in our wedding clothes and were joined by the bride's daughter Colleen. Friends Janine, Mike, Athena, and Alex also joined us on the cruise. The new Butlers will happily reside in Wicomico Shores on the Golf Course.