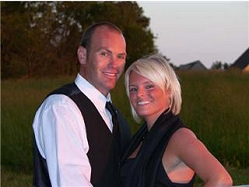 Kristen Hayden Kerr of Lusby, MD and Kurt Allan Leitch of Solomons, MD were married on Friday, June 13, 2008 in Kent Island at the Chesapeake Bay Beach Club.. The bride is the daughter of Hillary Knieriem and Robert Kerr. The groom is the son of Russell Leitch and Nettie Harold.
The newlyweds spent their honeymoon in Cabo San Lucas.
Kurt and Kristen are both graduates of Calvert High School. Kristen is an 02' alum from Elon University. She is currently employed at Channel 9 News in Washington D.C. Kurt is a superintendant with Cherry Cove Builders Inc. They currenty reside in Broomes Island.