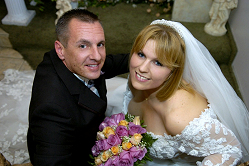 Tammy R. Birch-Arndt of Patuxent River, Md and William J. (Bill) Vincena Jr. of Barstow, Ca were married on Monday, October 22, 2007 in the Las Vegas Garden of Love Chapel. The bride is the daughter of Ted & Agnes Birch, Charlene & Steve Eacho. The groom is the son of Christine Vincena and the late William J. Vincena.
The newlyweds spent their honeymoon in Las Vegas.
They were married on their one year anniversary, and are planning for a Catholic ceremony in 6 months here locally at the Holy Face Catholic Church in Great Mills.