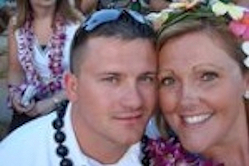 Nicole Burroughs of White Plains, Maryland and Daniel Foster of Gainesville, Georgia were married on Saturday, November 10, 2007 in Ocean Lakes Family Campground on the Beach. Surfside, South Carolina. The bride is the daughter of Robert and Velma Burroughs. The groom is the son of Donald and Nelda Jo Foster.
The newlyweds spent their honeymoon in Mrytle Beach, South Carolina.
Nicole is a Technical Recruiter at DCS Corporation located in Lexington Park, MD.
Daniel is active-duty serving in the US NAVY as an Aviation Ordnance-men. He has until November 2008 left in Patuxent River N.A.S.