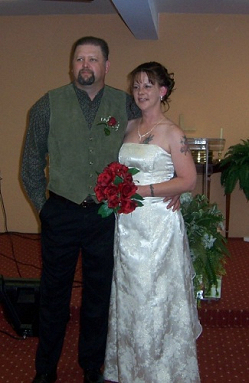 Christine Sosbe-Keefer of Mechanicsville, Maryland and Bryan Gatton, Sr of Mechanicsville, Maryland were married on Saturday, July 07, 2007 in New Hope Church, St. Leonard, Maryland. The bride is the daughter of Glenn & Maddie Sosbe, Carolyn & David Maddox. The groom is the son of Richard & Carolyn Scrivener, Arnold & Helen Gatton.
The newlyweds spent their honeymoon in (Will honeymoon at a later date).
Ms. Christine Sosbe-Keefer and Mr. Bryan Gatton, Sr. were wed on July 7, 2007 at 2:00 p.m. The couple chose to have a simple, private ceremony, in St. Leonard Maryland, officiated by Pastor Larry Barnes.
The bride wore a simple strapless floor length, off-white gown with gold glitter. The bride carried a boquet of red roses. The bride was attended by her 2 daughters Katheryne Fort and Heidi Keefer which both wore multi-colored pink knee length dresses with silver glitter, and both carried boquet of cali lillies.
The groom was attended by his son Bryan Gatton Jr.
The couple chose to write their own vows. A reception and honeymoon are scheduled for the near future. The couple will reside in Prince Frederick, Md.