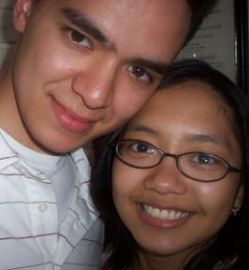 Frances Emilyne Acosta Delmoro of Great Mills, MD and Jason Hermosilla Roof of Great Mills, MD were married on Saturday, May 20, 2006 in Immaculate Heart of Mary Church, Lexington Park, MD.
The bride is the daughter of Edwin & Ida Delmoro of Great Mills. The groom is the son of Kenneth & Susan Roof of Great Mills.
The bride graduated from Great Mills High School with the class of 2004, and the groom in 2003.
Frances is currently attending the College of Southern Maryland pursuing a career in Nursing. Jason is serving in the United States Navy and is stationed in Norfolk, Va. The couple has been together since October 18, 2001.