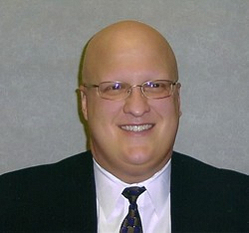 Kirk Bruce MacKinnon, 43, of California, MD passed away on August 24, 2011 at his residence. He was born May 7, 1968 in Bangor, Maine.

Kirk attended schools in Vassalboro, Maine and graduated from Cony High School in Augusta, Maine in 1986. He received a Bachelor of Science degree in Hotel & Restaurant Management at the University of Massachusetts, Amherst in 1990. His professional career took him from Baltimore, MD to Washington, DC to Columbus, OH to St. Mary's County, Maryland where he was manager of the Daugherty Conference Center and most recently the River's Edge Conference Center at the Patuxent Naval Air Station.

Kirk was a member of the Patuxent Presbyterian Church in California, MD. He was active in and the current president of the Lexington Park Rotary Club where he received the Paul Harris Award. He was a member of the Mason's New England Lodge No. 4.

Kirk is survived by his daughter, Caleigh, and Caleigh's mother, Joanne MacKinnon, of California, MD. He is also survived by his parents, Ian and Ann MacKinnon, of Vassalboro, Maine and his brothers and their families, Ewen and Ottilie MacKinnon and Ian of Chichester, NH and George and Heather MacKinnon and Paige and Colin of Brunswick, Maine. Also surviving are an aunt and uncle and several cousins.

Family will receive friends on Tuesday, August 30, 2011 from 5:00 p.m. until 8:00 p.m. at the Brinsfield Funeral Home, 22955 Hollywood, MD 20650. A Funeral Service will be held on Wednesday, August 31, 2011 at the Patuxent Presbyterian Church at 11:00 a.m. Interment will be in Charles Memorial Gardens, Leonardtown, MD.

In lieu of flowers, contributions may be made to an educational scholarship fund established for his daughter. Contributions may be sent to The Lexington Park Rotary Foundation Caleigh MacKinnon Scholarship, P.O. Box 202, Lexington Park, MD 20653.

Arrangements by the Brinsfield Funeral Home, P.A., Leonardtown, MD.