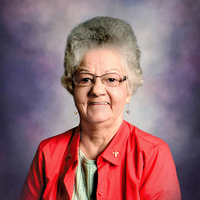 Mary Janet "Jody" Gray, age 78, peacefully passed away on November 8, 2023, surrounded by her loving family in Leonardtown, MD.

She was preceded in death by her loving husband Elmer and eldest daughter Frances, and survived by her daughter Carol Bowles (Greg), two grandchildren Josephine Sinclair (Josh), and Gregory Bowles, and great granddaughter Zelda Sinclair.

Jody born, on February 18, 1945, was the sixth of 15 children born in Chaptico, MD to the late James Andrew "Toots" Nelson and Beatrice Tennyson Nelson.

She was a loving sister to the late James Maguire "Mop Jack" (Dorothy, decd.), Francis Leroy "Bubba" (Lori) and Charles Bernard "Banjo, Manzie", surviving siblings: Joseph "Freddie" (Mary), John Ira "Dink", Thomas Allen "Sam" (Carolyn), Sylvia Nelson Gainey (Bill), Brenda Nelson Caywood (Charles, decd.), Kenneth "Ken" (Betty Lou), Robert "Wayne" (Gloria), Wallace "Wally" (Ellen), Rita Nelson Buckler (Robert), Rose Nelson Roth and Tina Nelson Bowles (Tommy).

Jody met her future husband Elmer Gray at a church dance at Our Lady Of The Wayside, and they were married on February 8, 1964, going on to have two children, Frances Gray and Carol Bowles of Charlotte Hall, MD.

Jody dedicated her life to being a fantastic and wonderful mother and wife. Through the years they lived in many places and she always managed to make them a home. She was a caregiver for Frances. She made it her mission to improve the lives of others. Her kindness and generosity inspired those around her to do the same. Jody's legacy as a loving mother and selfless advocate for others continues to live on, touching the lives of many.

Jody always found the time to play pitch and bingo. When she wasn't filling her home with warmth and kindness, she could be found at one of the local card parties or the bingo hall. Later in life she discovered an enjoyment for coloring and would create beautiful pictures for everyone in her life. We will miss her greatly.

The family will receive friends on Sunday, November 19, 2023, from 2:00 pm to 4:00 pm with prayers at 3:00 pm at Brinsfield Funeral Home at 30195 Three Notch Road, Charlotte Hall, MD 20622. A mass will be held the following day on the 20th at 11:00 am Our Lady of the Wayside, 37575 Chaptico Rd, Chaptico, MD 20621. Interment will follow after the service at Queen of Peace Cemetery, 38833 Chaptico Rd, Mechanicsville, MD 20659.

Pallbearers will be Gregory Bowles - grandson, Steve Nelson - nephew, Tommy Nelson - nephew, Bobby Buckler - nephew, J. J. Roth - nephew, and Sean Caywood - nephew.

In lieu of flowers, contributions may be made to Hospice of St. Mary's or St. Mary's Nursing Center.