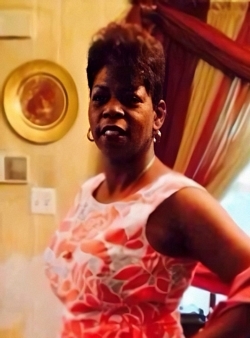 Rosalind Maria Robertson Allen "Ros", age 57 of St. Leonard, Md., and formerly of Buffalo, NY, passed away on May 21, 2023 at Washington Hospital Center.

Born June 26, 1965 in Buffalo, NY, she was the daughter of Myrtle Robertson and the late Clarence Robertson.

Ros graduated from Hutchinson Central Technical High School in 1983. She married Robert C. Allen in Buffalo, NY on January 2, 1985, and they moved to Calvert County from Virginia Beach, VA in 1988. Ros was a Business Financial Manager at Patuxent River Naval Air Station for thirty years. She enjoyed gardening, crafting, music, shopping, traveling, thrift shopping, cooking, and interior and exterior decorating.

Ros is survived by her husband, Robert C. Allen of St. Leonard, Md.; her son, Paris Robertson (Donique) of Buffalo, NY; her mother, Myrtle Robertson of Buffalo, NY; four grandchildren; and siblings, Patricia Robertson and Brenton Robertson of Buffalo, NY, and Kenya Jemison (James) of McDonough, Ga.

A graveside service will be held on Friday, May 26, 2023 at 12:00 p.m. at Chesapeake Highlands Memorial Gardens, Port Republic, Md.

Condolences to the family may be made at www.rauschfuneralhomes.com.