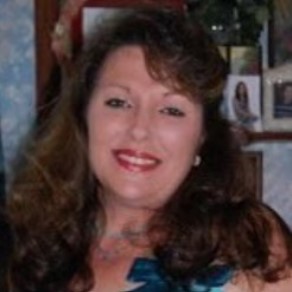 Tina L. Donnelly passed away peacefully in her home surrounded by family on the evening of Monday, March 6th, 2023. Mrs. Donnelly was a fighter until the end, living several days longer than doctors predicted, at home in hospice care. Mrs. Donnelly had been battling breast cancer and end stage kidney disease for a very long time.
Tina was born in Winchester, Virginia on September 22nd of 1964, to her mother Shirley S. Schaefer and father Edgar L. Hibbard. She graduated from Fort Washington Maryland's Friendly High School in 1982. Tina worked all throughout high school and upon graduation became one of the youngest General managers in McDonald's history. Tina began dating Timothy Donnelly in 1981 and they were wed in October of 1986.

Throughout her life Mrs. Donnelly held many positions. She "recreated herself to meet the needs of her family" several times over, by working in different companies and in different roles. No matter what she did, she always excelled. Later in life Tina became a business owner, running a daycare from her home in Cedarhurst for 10 years. She received an Associate's degree in early childhood education from Anne Arundel community college. Tina loved children and was able to touch many lives not only through her business, but through being a Sunday school teacher, youth leader, and coach for many years. She was a devout woman of faith and practiced outreach and charity whenever she could. She was a deeply generous and compassionate person. When told by her church that she could not run a drug recovery program out of their building, she ran it out of her own living room. When told she had cancer she proclaimed, "I have no intention of dying, I have too much left to do, I simply won't." She went on to live 8 more years in which time she accomplished a great deal.

Tina had said her greatest accomplishment in life was her children. Her prerogative once her children were in the picture was to be the best mother she could be, and give them every opportunity to pursue their dreams and to have the chance to become the people they wanted to be. She did an outstanding job. All of her children graduated school with honors. No matter what medical hardship she faced she did everything she could to limit the burden on her family. She continued to work through her battle with cancer. Before she left this life she saw her youngest off to college, her middle graduate college, and her eldest receive her doctorate. Her two youngest children are currently continuing their academic pursuits.

No matter how busy her own three children kept her, Tina was always taking care of any child or young person that came into her sphere. She was a pillar of her community in Shady Side, Maryland where she lived with her family for 32 years. She was the recipient of an outstanding contribution and community service award for her charitable and service acts throughout her time in South County.

She was a vivacious and passionate person who never stopped sporting a smile no matter what challenges life through her way. She was an excellent storyteller and never failed to make those in her presence roll with laughter and feel right at home. She was an avid Southern Baptist church goer, a member of the choir, and a lover of crocheting and needle point. She loved baking Christmas cookies, and making her house a home for all who entered.

She was preceded in death by her father Edgar L. Hibbard, and her brother, Terry E. Hibbard. It is our grateful prayer that they were there to hold her hand when we no longer could. This too is a blessing.

Tina is survived by her husband of 36 years, Timothy Donnelly, and her children Jessalyn Hadfield (Callum) of Morgantown West Virginia, Shannon Donnelly of Baltimore, Maryland, and Hugh Donnelly of New Orleans, Louisiana. She is also survived by her mother, Shirley Schaefer (Frank) of Archdale, North Carolina, and her siblings; Greg Rogers (Bonnie) of Old Fields, West Virginia, Tamera Young of Kings Port, Tennessee, Weldon Hibbard of Moorfield, West Virginia, as well as four loving nephews, countless cousins, friends, and extended family.

In her final days her home was an endless parade of visiting friends, family, and loved ones. It is a testament to the love she gave away in this world, that it was returned to her in her final days. Always the life of the party, and the most anticipated guest Ms. Donnelly reminds us all that a difficult goodbye is the price we pay for having been blessed with such an amazing mother/wife/daughter/sister and friend.

Services will be held in Mrs. Donnelly's honor at Friendship Community Baptist Church on Saturday, the 18th of March 2023 at Friendship Community Baptist Church , located at 37 Jewell Rd, Dunkirk, MD, where all are welcome.

Visitation will be from 12:00 PM to 1:00 PM immediately followed by services from 1:00 PM to 2:00 PM. A meal will be provided by the family after services conclude.

An intimate interment service will occur on Monday the 20th. Tina will be laid to rest next to her brother and father at Stonewall Memory Gardens at 12004 Lee Hwy, Manassas, VA 20109.

Flower donations can be called into Floral Expressions in Calvert County, Maryland at (410) 257-7775. Monetary donations may be made in her honor to the national breast cancer foundation.