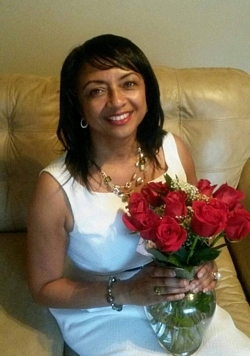 Brenda Augrette Robinson, MBA, MA, PhD(ABD) of Fort Washington, Md. passed away on Friday, September 9, 2022, at the age of 59 after a two year battle with ALS-FTD. Raised in Indian Head, Md., she attended Lackey High School, and graduated from St. Mary's College of Maryland in 1985. She received Masters Degrees from the College of William and Mary and the Wharton Business School of the University of Pennsylvania.

After teaching for several years at Temple University, Brenda began her career as an insurance executive. For the next three decades, she worked with Booz Allen Hamilton, Ullico, Baltimore Life, Old Mutual, and 5STAR Insurance companies, specializing in risk management.

Brenda was a woman of unbounded energy and enthusiasm - when not throwing herself into her work as a "numbers girl," she was planning family reunions, mapping family genealogical trees, praising her Lord, or spearheading a successful campaign to "bring home the Mothership" to the Smithsonian National Museum of African American History and Culture. Moreover, family meant everything to her.

There will be a visitation for family and friends Friday afternoon, September 16, 2022 from 3:30 to 5:30 p.m., at the J.B. Jenkins Funeral Home, 7474 Landover Road, Landover, Md. On Saturday morning, September 17, at Rehoboth Baptish Church, 621 Alabama Avenue, SE, Washington, DC, there will be a visitation at 10 a.m., followed by a funeral service at 11:00 a.m. Interment will follow immediately at National Harmony Memorial Park, 7101 Sheriff Road, Landover, Md.

In lieu of flowers Memorial contributions may be made in her honor to the Robinson Family Scholarship, c/o Andrew G. Bailey, Esq., 409 Washington Avenue, Suite 300, Towson, Md. 21204, or via Zelle to Andrew Bailey (443-224-8312) or via CashApp to $DrewLawOffice.