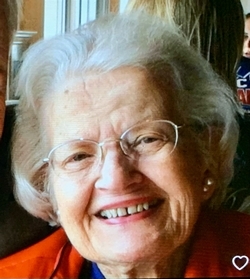 Blanche H. Childs of Solomons, Md. passed away peacefully on September 9, 2022 at the age of 100 at the Asbury Retirement Community. Blanche is universally remembered as loving and always cheerful.

Blanche was a graduate of the University of Richmond West Hampton. A Nurse Cadet during WWII, she graduated from Johns Hopkins University with a BSN and later worked at the University of Maryland Hospital in Baltimore.

Blanche married Hodges B. Childs in 1949. She is survived by her sons, David H. Childs (Joan) of Springfield, IL and Stephen B. Childs (Natalie) of Potomac, Md. Blanche is also survived by grandchildren, Douglas Childs, Heather Childs Mason and Melanie Childs and great-grandchildren, Madison Mason, Colin Mason, and Carter Mason.

Blanche was preceded in death by her husband, Hodges Childs and brothers, Jacob Hagaman, Frank Hagaman and Ralph Hagaman, and sister Mary Saylor.

Services will be private. Condolences to the family may be made at www.rauschfuneralhomes.com.