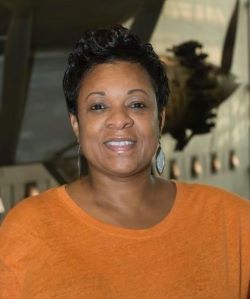 Collette Elizabeth Williams, departed this life July 24, 2022 surrounded by her family whom she cherished the most. "Co Co" was one of eleven children born to John Raymond and Dorothy Marie "Dot Lot" Williams on May 31, 1966 in Leonardtown, Maryland. She received her education in the St. Mary's County Public School System, graduating from Leonardtown High School in 1984.

During high school, Collette started her journey with the Federal Government at Patuxent River Naval Air Station and continued until her passing at the Smithsonian Air & Space Museum in Washington, D.C.

She enjoyed her yearly trip to Vegas with friends and family, hanging out with all she grew up with in Oaksville, and spending time with her nieces and nephews. Her most precious moments were when her and the "Siblings" got together. Collette was the life of the party and rest assured her music was bumping to Prince and Chuck Brown. Whenever there was a concert in town she had one of her nieces or a sister in tow.

To cherish her memories, Collette leaves her siblings, Juliet Hewlett, Thomas (Sharon) Williams of Lexington Park, Patricia (Jerome) Frazier of Waldorf, Laurey Williams of Chesapeake, Virginia, John Williams, Jr. of Lexington Park, Dwayne Williams of Landover, Ronald (Kia) Williams of Lexington Park and Sonya (Steve) \Newton of Lexington Park; two brothers-in-law, Jim Holt of Waldorf, Maryland and Joseph Wilson of Rocky Mount, N,C; great aunt, Estelle Thompson; aunts and uncle, Frances (James) Blackiston, Marion Nelson, Theresa Thompson, Marguerite Barnes and Charles (Helen) Thompson, twenty- two nieces and nephews, thirty-one great nieces and nephews, six great-great nieces and nephews; special friends and family, Joseph Somerville, Felicia Young, Terri Snowden, Abby Hailegorgis, Mary "Sissy" Estep, Debra Dyson, Diane Lawrence, Eboni Lewis, Rhoda Colvin and Anita Young.

She was preceded in death by her parents, John and Dorothy Williams; sisters, Marilyn Holt and Charlene Wilson; brother-in-law, Ricky Hewlett, Sr.; maternal grandparents, George B. Sr. and Rosie Thompson; paternal grandparents, James and Betty Williams; aunts, Alice Miller and Loretta Willet; uncles, Randolph Barnes, George B. Thompson, Jr., Horace Willet, Colbert Barnes, Sr., Frances Nelson, and childhood friend, Ann "Shuge" Young.

Family and friends will unite on Wednesday, August 3, 2022 for viewing from 6:00 p.m. ~ 8:00 p.m. at Briscoe-Tonic Funeral Home, 38576 Brett Way, Mechanicsville, MD. On Thursday, August 4, 2022 viewing will begin at 10:00 a.m. until the time of service at 11:00 a.m. at Briscoe-Tonic Funeral Home, Mechanicsville, MD. Interment will follow at Charles Memorial Gardens, Leonardtown, MD.