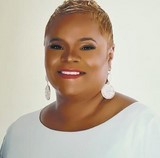 KIMBERLY Chanteuse BRISCOE-TONIC Owner of Briscoe-Tonic Funeral Home

On Tuesday, July 12, 2022 Kimberly Chanteuse Briscoe-Tonic entered into eternal life peacefully with her family at her side. Born July 6, 1968 to Francis and the late Frances Dickerson Briscoe in Washington, DC. Educated by Prince George's County public schools, graduating from Potomac High School, Class of 1986. She continued on to the University of the District of Columbia where she earned an Associate of Applied Science in Mortuary Science. Kim worked at various funeral homes in the Washington DC Metropolitan area for over 20 years before opening her own Briscoe-Tonic Funeral Home in 2008. She was a loving wife, amazing mother, devoted daughter, an energetic sister, spoiling aunt, and loyal friend. Her contagious smile, warm spirit, generous heart, and unexplainable kindness will be missed by each person she encountered.



Left to cherish her memories loving husband, Tony; daughter, Tristan; father, Francis; two sisters, Denise and Sharon (Tony, Sr.); two brothers, Greg (Sylvina) and Eric (Tonia); best friend, Ronnette; nieces, nephews, aunts, uncles and a host of other relatives and friends.



Visitation will be held Friday, July 22, 2022 from 9 a.m. until 1 p.m. at Briscoe-Tonic Funeral Home Mechanicsville, 38576 Brett Way, Mechanicsville, MD 20659 and from 4 p.m. until 9 p.m., with Reflections to begin at 6:00 pm at Briscoe-Tonic Funeral Home Waldorf, 64 Industrial Park Drive, Waldorf, MD 20602. Visitation will also be held on Saturday, July 23, 2022 from 8 a.m. until time of Mass of Christian Burial 10 a.m. at Holy Family Catholic Church, 2210 Callaway St., Hillcrest Heights, MD 20748. Interment will follow at Resurrection Cemetery, Clinton, MD.