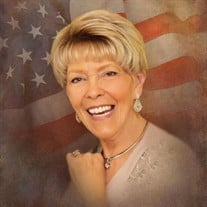 Mrs. Barbara Ann Tolarski (Skidmore), age 79 of La Plata, Maryland, passed away Sunday, June 26th. She was born April 10, 1943, in Grapeland, Texas, to Calvin and Nancy Skidmore (Tullos). Barbara married Joseph Andrew Tolarski, Jr. on March 21, 1963. They met while serving in the United States Navy (USN) in Suitland, Maryland. From Suitland, they moved to Paris, France, and then to Frankfurt, Germany. Barbara and Joe returned to the United States in 1967. They later moved to Waldorf, Maryland, in 1975; La Plata, Maryland, in 1991; and retired to Hernando, Florida, in 2005. She attended St. Scholastica Catholic Church in Lecanto, Florida.

As a USN veteran and former Office of Naval Intelligence civilian, she held the United States flag and its symbolism in the highest regard. She enjoyed domestic and international travel, painting, creating flower arrangements, decorating her home, and entertaining family and friends. Most of all, she dearly loved each of her grandchildren.

Barbara is survived by her four children: Michele Antoinette (Jeff) Colburn, La Plata, Maryland; Joseph Andrew Tolarski III, Lexington Park, Maryland; Monica Ann (Chris) Cox, La Plata, Maryland; John Anthony (Kellie) Tolarski, Cypress, Texas; and her nine grandchildren: Monica Ann Colburn, Ann Marie (Andrew) Lawrence, Andrew Gerald Tolarski, James Matthew Tolarski, James Calvin (Cassidy) Cox, Erica Rae Cox, Joseph Paul Tolarski, Lauryn Nicole Tolarski, and Gavin Michael Tolarski.

A Funeral Mass will be celebrated at St. Mary's Catholic Church, Bryantown, Maryland, on August 13, 2022, at 11am. Her interment at Arlington National Cemetery will follow at a later date.