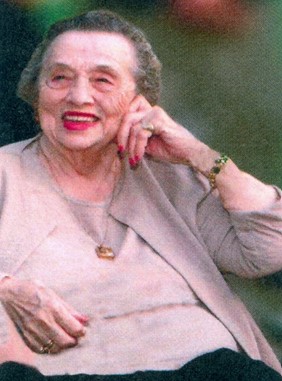 Ann Roberts, 99, of La Plata, passed away Sunday, June 26, 2022, at home of age-related causes.

Born November 5, 1922, in Waldorf, MD, she was the daughter of the late Norbert Jameson and Frances Rollins. Ann was the wife of the late Benjamin Roberts, Sr, who passed in July 1990. She is survived by three children, Joseph Roberts and wife, Helen, of Midlothian, VA; Inez Roberts of La Plata; and Phyllis Martin and husband, Louis, of Frederick, MD. She was predeceased in death by three children: John, Sandra, and Benjamin, Jr.; and two sisters: Cecilia Jameson and Doris Jameson Grimes. She is survived by 9 grandchildren,17 great-grandchildren, and 4 great great-grandchildren.

Ann was a devoted mother of six children and enjoyed a lifetime commitment of volunteering. She achieved much recognition due to her work with the Charles County Homemakers, American Cancer Society, Hospice of Charles County, Charles County Nursing Home, La Plata Fire Department Auxiliary, and La Plata Lions. She was a lifetime member of the American Legion Auxiliary, Unit 82, La Plata, and was a member of the Catholic Daughters of America. Ann was a dedicated member of the Charles Regional Medical Center Auxiliary in La Plata, serving as a volunteer, President for twenty years, and then Advisor in later years, accumulating a lifetime of over 32,700 volunteer hours with the organization. She received many awards throughout her long life, including Mrs. Charles County Homemaker, Outstanding State Unit Public Education Volunteer Award from American Cancer Society, Most Valuable Citizen of Maryland, Spirit of Community Award from Civista Medical Center, and Community Service Volunteer of the Year. An Ann Roberts Health Career Scholarship was named in her honor during her lifetime by the Charles Regional Medical Center—awarding six $1,000.00 scholarships annually. She enjoyed reading, cooking, organizing events, and helping others. Family gatherings were her greatest joy.

Visitation: Viewing will take place at Arehart-Echols Funeral Home, 221 St. Mary's St, La Plata, Sunday, July 3, 2022, 1:00 pm-1:30 pm family only; and 1:30 pm-4:00 pm public viewing. Mass at Sacred Heart Catholic Church, 201 St. Mary's Ave, La Plata, Tuesday, July 5, 2022, 10:00 am. Burial will follow at St. Mary's Catholic Church cemetery, Oliver's Shop Road, Bryantown, MD. There will not be a formal Wake gathering because we celebrated her life with her during her lifetime and those memories will be with each of us forever.

In lieu of flowers, contributions may be made to the Charles County Humane Society, 71 Industrial Park Drive, Waldorf, MD 20602.