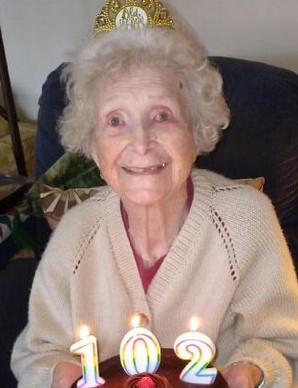 Hannah Mary Burke,102, of Dunkirk, MD, passed away in Prince Frederick, MD on June 18, 2022. Hannah was born on March 29, 1920 in Martin's Creek, PA to the late Harold, Sr. and Hannah McConnall Williamson. She married William Welford Burke in 1942 and they were together for 65 years until his passing in 2007. She had lived in Dunkirk since the 1980's. Hannah had been employed a secretary with the United States Government and she had worked at Andrews Air Force Base.

In addition to raising her four children, Hannah enjoyed painting pictures. She played the organ at her church, Smithville UMC in Dunkirk, a church in Friendship, MD and at several "pop up" churches at drive-in theaters in nearby counties. She lived by the words of one of her favorite songs, "Young at Heart" by Frank Sinatra: "Fairy tales can come true, it can happen to you, if you're young at heart."

Hannah is survived by her sons, William (Mary Kim Corley) of Dunkirk and Timothy Burke of Leonardtown; daughters, Patricia (James) Murphy of Key Largo, FL and Catherine Lee Lesher of Huntingtown, MD; seven grandchildren and six great-grandchildren. Besides her husband, she was predeceased by her brothers, Harold Williamson, Jr. and Donald Williamson and her sisters, Edith M. Williamson Smallwood and Charmaine Williamson Masut.