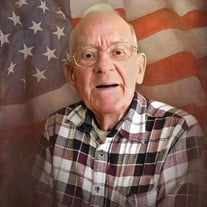 Ronald Leon Griffith, 85 of La Plata, MD passed on Tuesday, June 21, 2022.
He was born on September 15, 1936, in Hughesville, MD to the late Grace Griffith (King) and Arthur Griffith.
Ronald served in the United States Navy for 21 years as an engineer, where he retired then worked as a maintenance technician at Beretta.
He loved working on his car and truck, you could always hear him listening to his country music. Ronald even played the guitar; you could always see him picking it. His favorite food was shrimp and fries, but you could catch him at dairy queen eating a chocolate ice cream or getting a hot chocolate. Overall, he was such a loving person.
Predeceased before him is his parents, also all his brothers, sisters and two step children.
He leaves behind his fiancé Mazie Burch, twin sons Ronald Leon Griffith jr., and Ralph Leroy Griffith, and two grandsons. Along with many other relatives and friends.

Visitation will be June 30, 2022 at 10am located at Raymond Funeral service with a service at 11am. Interment will be at Trinity Memorial Gardens at 12pm.