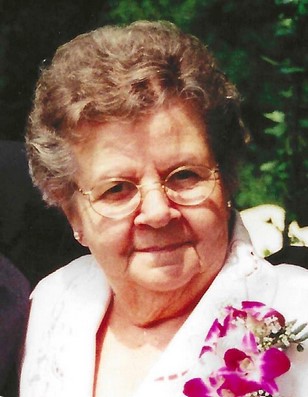 Gloria Pyles Oursler, "Nana," was a sister, loving wife, mother, grandmother to 13, great grandmother to 14, and one great-great grandchild. She passed away, peacefully, at the age of 92, Saturday, June 25, 2022, at home surrounded by her family.

Gloria was born to Herbert and Edith Pyles, October 28, 1929. She married William Rodger Oursler on November 6, 1947, and together they enjoyed their four children Terri, Wileen, Leonard and Lori along with 48 years of marriage. Their life was filled with love for their many grandchildren.

Gloria loved flowers and spending time with her friends. The children in her life will remember the love she shared for each and every one of them, she was so loving and patience and would spend hours reading them stories or making up her own, her hugs were legendary.

She looked forward to the annual trips she would take with her sisters to Lancaster, PA to gather whatever fruit was in season. She treasured the friendships she collected over the years. Her quick wit and sharp sense of humor are some of the gifts she had that we all loved and will miss terribly.

The family will receive friends at Lee Funeral Home Calvert 8200 Jennifer Lane Owings, MD 20736 on Friday, July 1, 2022 from 11:30 am to 1:30 pm where a Funeral Service will be held at 1:30 pm in the Funeral Home Chapel. Interment will follow at Southern Memorial Gardens Cemetery 10155 Ward Road Dunkirk, MD 20754.

Donations make take the form of flowers or donations to Connor's Heroes, helping children with cancer PO Box 5512, Richmond, VA 23220 in her memory.