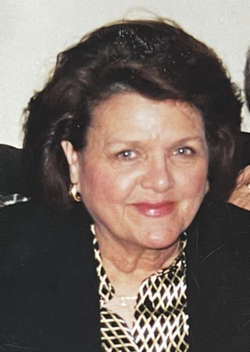 Ruth Long Schuhart was born on January 21, 1933, in Leonardtown, Md., and passed away peacefully on April 26, 2022, in La Plata, after a brief illness involving esophageal cancer.

A loving mother and friend to many, Ruth always enjoyed being with people and strove to make everyone feel welcome. She enjoyed life and many hobbies such as reading, entertaining, cooking, and at the top of the list, shopping; had a great flair for decorating and design and an eye for beautiful accessories and jewelry. She will be greatly missed and never forgotten by all who knew her.

Ruth was predeceased by her brother, Carroll R. Long; her son, David H. Schuhart; daughter, Gayle Schuhart Wells; and granddaughter, Brentanie M. Schuhart. She is survived by her four sons; Jeffrey L. Schuhart, George W. Schuhart (Patricia), Dennis K. Schuhart, and Joseph B. Schuhart. Additional survivors include her former daughter-in-law Mary Schuhart Chamberlain (Edward), granddaughter Jessica Schuhart Light (Jarratt), and great-grandchildren Lincoln and Theresa Light.

A private interment will be held in her honor with family and close friends on Friday, June 17, at 2 pm at the All Faith Episcopal Church.

A memorial service will be held on Saturday, June 18, at 12 pm at the White Plains Fellowship Church, followed by a reception at the Hawthorne Greene Clubhouse at 234 Williamsburg Circle.

In lieu of flowers, the family requests donations to be made to the American Cancer Society.