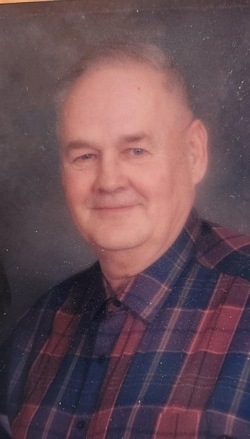 On Monday, June 6, John Hall, loving husband and father of five children, passed away peacefully at the age of 86. "Jack" was born on July 6, 1935 in Prince Frederick, Maryland to Dorman and Ione Hall. He grew up working on his father's tobacco farm alongside siblings Hugh, Bob, Wes, and Charlotte. After graduating from Calvert High School in 1954, he and his brother Bob joined the United States Navy as airmen, traveling the world. Settling down in 1961, Jack married his only love Vera Barbehenn and relocated to Washington, D.C., where he opened his first business, a barbershop. Always curious and ambitious, he developed a successful real estate business and a popular neighborhood restaurant, Jons' Pizza and Subs, and a crabhouse, Crabs-A-Plenty, located in Riverdale. Aside from his passion for the restaurant, Jack loved hunting on the Eastern Shore where time was spent laughing and joking, making food for his buddies, and-occasionally-hunting. And without fail, Jack could be found at the head of the dining room table every Sunday after church, gathered around his family, doing what he truly enjoyed: spending time with his loved ones. Jack and Vera continued their work at the restaurant until 1999, when they returned to Calvert County to rebuild their home along the shore of the Patuxent River where he was born. Jack was known for a sun-up to sun-down work ethic, humor, humility, his genuine care for others, and a smile that would light up a room. He was known by his family, friends, and community as one to give happily to anyone in need. Whether it be cash, crabs, or construction, Jack was a support to all who knew him. His Christian attitude of love shined in his willingness to serve God and others first.

He is survived by his wife Vera, and his five children: Kimberly, John, Belinda, Susan, and Becky; his thirteen grandchildren: Joshua, Daniel, Ken Jr., Shelby, Jack, Wesley, Sam, Elijah, Lilli, Jonathan, Anna, Maxwell, and Reagan; his six great-grandchildren: Kylie, Carter, Kinsley, Vera-Jean, Kimberly, Kenneth, and his beloved Yorkie: Hannah.

Funeral services will be held on Wednesday, June 15, 2022 at the Church By The Chesapeake on Broomes Island Road in Port Republic. The viewing will begin at 10:00 followed by the service at 11:00 am.