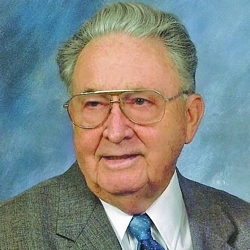 Robert (Bob) Elbert Davis entered into eternal rest on June 4, 2022.

Bob was born on February 5, 1921, in Oklahoma City. After graduating in 1942 from the University of Oklahoma with an electrical engineering degree, he took a civilian job with the Naval Research Laboratory in Washington, DC. Later, he served as an Ensign in the Navy at the Laboratory's Chesapeake Bay Annex, working on projects to analyze captured enemy radar systems and to develop countermeasures to defeat them.

At the Navy's Chesapeake Beach site, he met his wife of 70 years, Ruth Ward Gibson, who preceded him in death in 2017. They raised three children in Cheverly, MD: Phillip (Barbara) Davis, Bradley (Deborah) Davis and Marla (Barco) Davidson. Bob was the proud grandfather of six and great-grandfather of 10.

Bob had a long aerospace career developing missile and satellite systems, leading to his pre-retirement job at the Goddard Space Flight Center planning Space Shuttle missions to repair NASA satellites.

Bob was passionate about the sport of tennis, achieving the level of Master Professional and, in 2016, he was inducted into the US Professional Tennis Association's Mid-Atlantic Hall of Fame. Wherever he worked and lived, Bob left a trail of tennis courts that he designed and built.

In his nineties, Bob became an author and published a book detailing the design and construction of his personal back yard tennis court. Then last year, at age 100, he published "Follow My Path," a book about his engineering career intended as a mentoring guide for young people starting their careers.

A celebration of life will be planned for later this summer.