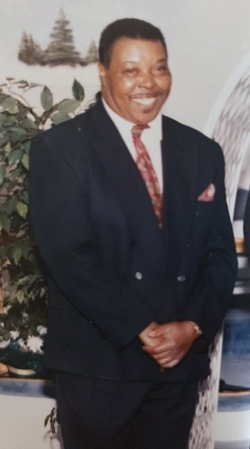 "The Life of a Faithful Servant of Jesus Christ" Nathaniel Allen Roach entered into eternal rest on June 4th, 2022 surrounded by loved ones at the Medstar Union Memorial Hospital in Baltimore, Md. Nathaniel was born in Leonardtown, Md. on December 3rd, 1947, to the late George Washington Roach Sr. (New Berns, NC) and Esther Inthar Travers-Roach (Drayden, Md.). He was raised in the Christian faith. Nathaniel attended George Washington Carver Public School. Nathaniel grew up working on a farm. He later gained employment working at the local saw mills, as well as a truck driver, for several years, until his health began to decline. He enjoyed reading his bible, continuously talking about the Lord, giving Godly and biblical advice, traveling around to the local stores on his scooter, watching Western's, and laughing. Who could forget his contagious, unforgettable, and distinctive laugh? He enjoyed sitting out on his porch talking to friends and neighbors. It seemed like he never met a stranger, as he would always greet everyone with a smile, and when given the chance, he would definitely tell any and every one about the good Lord & savior Jesus Christ.

In 1997, Nathaniel married his soulmate, Carolyn Joyce Roach. They were married for 7 years, until her passing.

After accepting the Lord Jesus Christ as his savior and being baptized in his name, he received his Deacon Certificate from the Church of Our Lord Jesus Christ of Apostolic Faith Inc. on August 16th, 2001. On August 29th, 2004, he received his Certificate of License from the United Apostolic Church Inc. At his passing, he was still a member of Tell the Truth Ministries in Great Mills, Md.

Nathaniel is proceed in death by his wife, Carolyn Joyce Roach; his parents George and Esther Roach; his daughter Sandra Gross (Roach); his sisters Katie L. Coleman and Shirley Roach-Taylor; brother William Billy Roach; uncles Charles, Llyod, William, James, and Robert Travers; and an aunt Adell Travers. He is survived by his only son Allan Gross (Roach)(Kema); his only grandson Allan Gross Jr.; brothers George W. of Jackson, MS, Christopher C.(Pamela) of Lexington Park, Md., and Lavern V. of California, Md.; an uncle Frank Travers (Edith) of Great Mills, Md.; one brother-in-law Doc Coleman of Washington DC; one sister-in-law of Clinton, Md. Alexis Flyod-Roach; close nephew Robert V Roach of Callaway Md.; close great niece, LaShawn Forbes (Roach)-Dumpson of Great Mills, Md.; good friend and neighbor Michael Thomas, and a host of nieces, nephews, family, and friends.

2 Corinthians 5: 8 "We are confident, I say, and willing rather to be absent from the body, and to be present with the Lord". Services will be private. Interment will follow at a later date. Peace be unto you all!