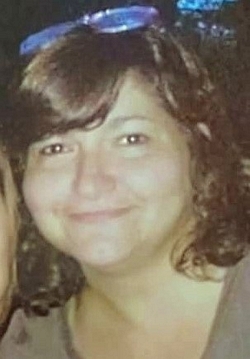 Andrea Beth Schaffer, 55, passed away at Georgetown University Hospital on May 23rd, 2022.

Andrea was born in Irondequoit, NY on April 11th, 1967 to the late Joseph and Diane Demaio. Andrea was the third of four siblings.

In her early teens, Andrea and her family moved from the cold, snowy weather of upstate NY to sunny and warm New Port Richey, FL. It was here in 1988 that she met and fell in love with her husband, Jim. Andrea and Jim moved to St. Mary's County in the spring of 1991.

Angie was a people person. She would strike up a friendly conversation with anyone within arm's reach. She was an excellent communicator that never shied from expressing her opinion. Her openness and honesty was sometimes off putting to some, but many understood it to be one of her most endearing qualities. Summer weather was her favorite and she was in her element when she was near the ocean. Camping at Assateague Island was something that she loved to do. A huge rock music fan, her favorite band hands-down was Foo Fighters.

Andrea loved to host holiday get-togethers. Thanksgiving was her favorite. She spent many Thanksgiving dinners in her home surrounded by those that meant so much to her. She was truly one of a kind and will be missed dearly.

Andrea was preceded in death by her parents, Joseph and Diane, and her sister Rose. She is survived by her husband, Jim, her brother, Joey and her sister Mary-Lynn. She is also survived by her loving children, Cary, Jack, Julia and Lindsey and her grandchildren Breanna and Joey.

There will be a Celebration of Life gathering to honor Andrea. Date, time and location to be determined. All prospective attendees will be notified by phone or text.