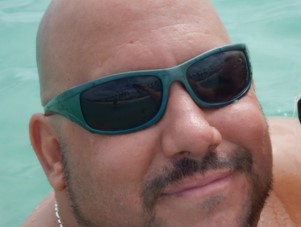 Robert James "Jimmy" Toppi was born on November 14, 1978 in Kansas City, Missouri. He passed away on Monday, April 25, 2022 at the age of 43. Jimmy passed away at University of Maryland Charles Regional Medical Center in La Plata, MD as a result of a motorcycle accident.

He is survived by his mother Mary Pilar, daughter Jessica R. Toppi, brother Joseph Edelen II, sister Katie Thomas, brother-in-law Sonny Thomas, aunt Leslie Pilar, aunt Lori Underwood, grandmother Corie Pilar, cousins Jaime, Lorenzo, Crystal, Gina, and Amanda, and forever friend Jessica N. Toppi. Jimmy is preceded in death by his brother David Pilar, and grandfather Jaime Pilar.

Jimmy was a dedicated volunteer firefighter, gun enthusiast, and motorcyclist. He enjoyed giving back to his community and helping others thru volunteer and charity work. He had a good heart and a sensitive soul.

The family will receive friends at the Potomac Heights Volunteer Firefighter Department and Rescue Squad on Friday, May 6, 2022 from 5 PM until time of service at 7 PM.

In lieu of flowers the family has requested donations be made to the Potomac Heights Volunteer Fire Department Ladies Auxiliary. The family has also set up a GoFundMe for final expenses.