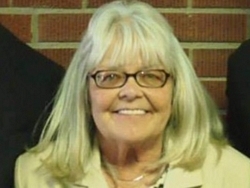 It is with great sadness that we announce the passing of our mom, Rebecca Adkins of Mechanicsville, Md. on April 25, 2022.

Rebecca was born on September 14, 1954 to the late Samuel and Ruth Arnold. In addition to her parents, she is preceded in death by her sisters Cathy Flair and Sandy Hippeard.

She was a long time resident of St. Mary's county. She loved Nascar, the Redskins, and the Washington Nationals.

She is survived by her brothers, David and Tim Arnold; and her loving children, Julie Becker (Guy), and Jason Nusz (Kristen).

Her grandchildren Brittany Webb (Joe), Stephen (Kristen), Samantha and Randi Becker, Shane Sorrells (Sherri), Hunter, Kaitlyn and Jacob Nusz; along with 6 great grandchildren and numerous other family members.

She will be deeply missed!