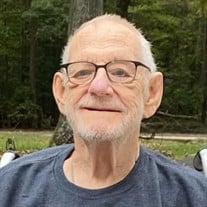 Jack Carter Crutchfield, 86, of Nanjemoy, Maryland, passed away in Waldorf, Maryland.

Born on July 21, 1935 in Florida, he was the son of the late William Jackson Crutchfield and Ila Lucille Crutchfield. A son of a career Navy father, Jack and his family lived in Florida, Washington, California, and Hawaii. Jack himself served in the U. S. Army until he was Honorably Discharged in 1967. He then went to work at the Naval Ordnance Station (now known as NSWC) in Indian Head as an Explosive Specialist, working with the ejection seats of Naval aircraft. Jack loved his family, flowers, hunting, fishing, serving as a Charter Boat Captain while fishing for Rockfish in the Chesapeake Bay. He was a partner with his brother Bill of Atlantic Fishing Lures.

In addition to his parents, Jack was preceded in death by his wife Pearl Crutchfield; grandson John Bowling; brother William Dean Crutchfield.

He is survived by his daughters Laura Lindamood and her husband Doug, Karen Bowling, Joy Foster and her husband Allen; grandchildren Doug Jr., Jeffrey, David, Kelsi, and Haley; great grandchildren Jake, Shelby, Brandon, and Paige.

A gathering will be held on Saturday, April 30, 2022 from 11AM until time for Memorial Service at 1PM at the Raymond Funeral Service, P.A., 5635 Washington Avenue, La Plata, Maryland 20646.

Interment will be private.

Memorial contributions may be made to the Alzheimer's Association, P. O. Box 96011, Washington, DC 20090-6011 or to Chesapeake Bay Foundation, 6 Herndon Avenue, Annapolis, MD 21403.