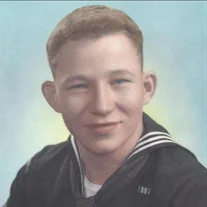 Darrell Wayne Lawson, 80, of La Plata, MD, formerly of Waldorf, MD, died Thursday, April 21, 2022 at UMD Charles Regional Medical Center.

He was born on September 2, 1941 in Holtville, CA to the late Grace E. Noble and the late Harry Lawson.

In addition to his parents, he was preceded in death by his brothers, Jay Lawson, Jack Lawson, and Thomas Lawson; and nephews, Tim and Raymond Lawson.

Darrell was a Veteran of the U.S. Navy, having served bravely in the Vietnam War aboard the U.S.S. Providence, a member of Good Shepherd United Methodist Church in Waldorf, MD, and a member of the VFW, American Legion, Elks, and the Jaycee's. He retired from the U.S. Department of Defense, Office of Naval Intelligence in 2002.

He is survived by his wife, Donna M. Lawson; son, Drew, and his wife, Callie; and grandson, Dash, of La Plata, MD; nieces, Darlene Lewis and husband, Robert, of VA and Cindy Goetz and husband, Thomas, of NE; nephews, Donald Lawson and his wife, of VA, and Jerry Lawson and his wife, of NE; many great nieces and nephews; and sisters-in-law, Connie Lawson of NE and Charlotte Lawson of VA.

A Visitation will be held on Monday, May 2, 2022 from 10:00am until time of Memorial Service at 12:00pm at Raymond Funeral Chapel, 5635 Washington Avenue, La Plata, MD 20646. Interment will take place at a later date, with U.S. Navy Honors, at Cheltenham Veterans Cemetery.

In lieu of flowers, contributions in Darrell's memory may be made to the American Diabetes Association, 1025 Connecticut Avenue, Suite 1005, Washington, D.C. 20036 or to the American Heart Association, P.O. Box 5216, Glen Allen, VA 23058.