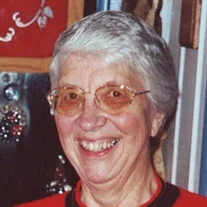 Eileen Jewell, of Accokeek, Maryland, passed away on April 18, 2022 at the age of 89, with her husband and son by her side.

Eileen was born on May 4, 1932, in Pine City, Minnesota, to parents Joseph and Anne Felten. She married her husband of 63 years, Charles (Al) Jewell in Beroun, Minnesota on May 3, 1958. Eileen and Al then moved to Accokeek, Maryland, where they raised their four sons.

She loved her family deeply, and served them and her community unselfishly: She volunteered with Meals on Wheels (of Southern Maryland), the Accokeek Boys Club, Boy Scouts, the Potomac Palaver (her Calvert Manor community newspaper, where she served in a variety of roles, including Editor). She was seen and heard on the sidelines of high school and youth sports games in and around the area for years, cheering on her sons and grandchildren. She was quick with a smile, loved puzzles and games, and enjoyed traveling and visiting with Al, her sister and other family and friends. She and Al hosted the community Christmas party in their home for nearly 50 years. She is already missed.

Eileen is survived by her husband Al; children Steve (Shar), Tom, Mark (Beth), and Bruce (Sue); many grandchildren and great grandchildren, sister Ceil Sundean, and numerous cousins, in-laws, nieces and nephews.

A viewing will be held at Raymond Funeral Home in La Plata, MD on Thursday, April 28, 2022, from 5:00-8:00 p.m. A Mass of Christian Burial will be held at St. Mary's Catholic Church (in Our Ladies Chapel) in Piscataway, Maryland on Friday, April 29, 2022, beginning at 11 a.m.

Eileen's remains will rest interred at Cheltenham Veterans Cemetery in Cheltenham, Maryland after a brief service on Wednesday, May 11th at 1:00 p.m.