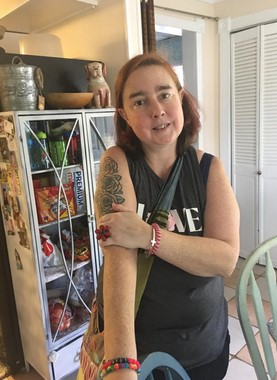 Lavenia Ann Burris
October 7, 1982- April 7, 2022


Born in Warner Robins, Georgia to Kenneth Burris, Jr. and Dorinda Ann Cribbs. At age 8 she moved to Jacksonville Beach, Florida to live with her grandparents, Kenneth and Martha Burris. Lavenia loved swimming, the beach and "hanging out" with her friends and cousins. As a young teen Lavenia loved punk rock music and attending concerts and Warped tours. She particularly enjoyed the music of a Maryland band named Good Charlotte.

After graduating from Fletcher High School in Neptune Beach, Florida and taking courses at Jacksonville Community College, Lavenia met Brandon Sr. at Dairy Queen and their young love brought two sons, Brandon Jr. and Cameron, into the world. During a vacation her husband informed her she needed to stay in Maryland. As he could not support them. She joined forces with her grandparents to help to raise her boys with the same love and care she received from them for so many years. They made North Beach their home. Lavenia began working at Roland's Grocery in Chesapeake Beach where she met many wonderful friends and locals in her community. She enjoyed her work and work family. Lavenia's cancer was silently growing inside of her body but her spirit was untouched. She silenced her pain and worked hard to support and provide for her sons.

Lavenia lost her battle to cancer on April 7, 2022 in her home surrounded by family. She joins her mother, great grandparents and many loving family members in Heaven with her Lord. Lavenia leaves behind to protect her memories those touched by her quiet strength; her sons Brandon James (15), Cameron Vaughn (11), her grandparents Kenneth Sr. and Martha Burris, of North Beach MD. Her father Kenneth Jr., sisters Vanessa and Mary Burris of Warner Robins GA and her Aunt JoAnn (Henry) Slice and cousin's Stephanie (Mike), Christy (Billy), and Brandon (Rudy) and their children all residing in the nearby Maryland area. She is loved by many family members across the US and will be missed. Cancer Sucks Big Time. We will always remember Lavenia's desire to surround her children with loving and supporting family and her quiet, never complaining fight until the end doing what she could to get even a few more hours with her boys.

Rather than flowers please consider a gift to:

American Cancer Society in the fight to cure cancer.

Windy Hill Elementary and Middle, whose staff and counselors continue to support her sons.

Hospice of Calvert County for their amazing support to those with terminal illness.

Grateful Great-Grandparents Go Fund Me.

Her family sends their thanks to staff of Windy Hill and Roland's Grocery for their wonderful support during this difficult time.


Visitation
Saturday, April 9, 2022
3:00 PM – 4:00 PM
Rausch Funeral Home-Owings
8325 Mt. Harmony Lane
Owings, MD 20736

Service immediately following.