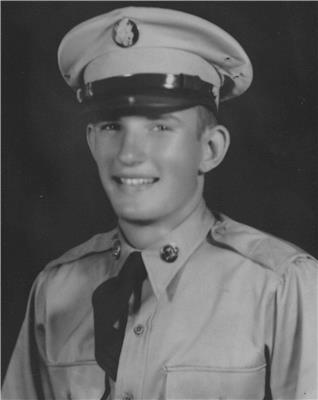 Dale Sherwood Bittner, also known as "Poppy" to his granddaughters, returned to his heavenly home on Wednesday April 6th, 2022. God blessed him with 90 fulfilling years. Dale was born to the late Arthur M. Bittner and Clara J. Leydig on September 6th, 1931 in Cumberland, Maryland. Growing up during the Great Depression shaped Dale's formative years and resulted in a lifetime of frugality and mischief, although to many he was known as a teddy bear.

Dale's fate was sealed when God brought along Ruth C. Randall. She noticed the handsome young man across the pews and declared to her fellow choir members, having never met him, "That's the man I'm going to marry!" Dale never stood a chance. Inseparable, they spent the next 42 years together until Ruth's passing in 1996.

A point of pride in his life, Dale served in the US Army as a tank gunner for three years during the Korean War. Dale's service to the country and his community did not end with his honorable discharge. His love of knowledge led to a 35 year career as a school teacher for Prince George's County, Maryland. True to his mischievous nature, Dale was known to pull pranks on his colleagues every chance he got.

When Dale wasn't hard at work he devoted all of his free time at home to Ruth and their two daughters Debbie and Linda (and his other "children" Chevy and Honda). Their love of the outdoors led to many trips across the country, including their favorite spot at Loft Mountain Virginia where they spent many nights laughing around the campfire.

A self-proclaimed handy-man, Dale was convinced he had to do everything himself. Whether it was building the back porch to his own house or a family duck pen, no project was too daunting for this selfless man. Even after the passing of his true love Ruth, Dale dedicated every moment to supporting his two daughters, granddaughters, and every beloved pet along the way.

With a smile and a wink, everyone instantly fell in love with this kind and gentle man. Dale aka Poppy will be deeply missed by every relative, friend, nurse, and pet. We can find comfort in knowing that Dale is with the Lord, reunited with the love of his life in Heaven.

Left with decades of fond and colorful memories Dale is survived by his two daughters Deborah A. Bittner-Denham and Linda L. Bittner and his two granddaughters, Ashley M. Denham and Jennifer M. Denham. To the family dog's delight Dale has left behind his stash of circus peanuts, milky ways, and peppermint patties.

Family and friends will unite on Tuesday, April 12, 2022 from 6:00 pm - 8:00 pm for viewing and visitation at Briscoe-Tonic Funeral Home, 38576 Brett Way, Mechanicsville, MD. Service will be held on Wednesday, April 13, 2022 at 10:00 am at Briscoe-Tonic Funeral Home, Mechanicsville, MD. Interment will be on Friday, April 15, 2022 at 12:00 noon at Mount Lebanon Cemetery, Glencoe, Somerset County, Pennsylvania.