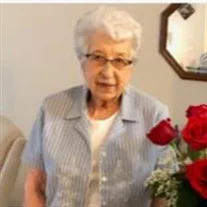 Ida Mae Willett, 93, of Prince Frederick, Maryland, passed away on March 27, 2022 at the Restore Health Center in White Plains, Maryland.

Born on May 31, 1928 in Whitaker, Pennsylvania, she was the daughter of the late Augusta Schneider and Diademia Schneider. Mrs. Willett served as a manager at the Base Exchange (BX) at Malcolm Grow Medical Center on Andrews Air Force Base for many years. She enjoyed playing Bingo every chance she could, listening to country and western music, cooking for her family, especially a feast for Thanksgiving Day. Family was very important to Mrs. Willett, particularly her grandchildren, who fondly called her "Na Na".

In addition to her parents, she was preceded in death by her husband Charles A. Willett; two sisters, Midge and Goldie; three brothers, Philip, Clarence, and James, who was killed in action during World War II.

Mrs. Willett is survived by her son Dennis Willett; grandchildren Charles Dennis "Chip" Willett II and Christen Diane Willett Wilson; one great grandchildren.

Family and friends to gather from 4PM to 6PM on Wednesday, April 6, 2022 at the Raymond Funeral Service, P.A., 5635 Washington Avenue, La Plata, Maryland 20646.

Interment will be with her husband at Arlington National Cemetery at a later date.

Memorial contributions may be made to Wounded Warriors Project, P. O. Box 758517, Topeka, KS
66675.