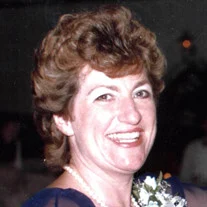 Jane Ellen Groat 83, of LaPlata Maryland. Formerly of Bryans Road, Maryland died at her home in LaPlata on Sunday March 13, 2022.

She was born on February 9, 1939, in Durbin, West Virginia to Ina Alice Greathouse Rose.

Preceding her death were her mother Ina Alice Greathouse Rose Shelkey, father Donald Eugene Shelkey, sister Joanne Nicely and brothers William Rose, Robert Rose, and Benjamin Rose.

She is survived by her three sons Robert Leroy Groat Jr., John Eugene Groat, and Jeffery Allen Groat. Grandchildren Julia Gadway, Collin Groat, Stephen Groat, Brittney Groat and Hunter Groat. Great-grandchild Braden Smith.

Jane Retired in 2008 after 52 years of government service with General Services Administration in Washington, D.C. and enjoyed volunteering with the Master Gardeners Association and the Literacy Council of Charles County.

A memorial gathering will be held on Tuesday, March 22, 2022 from 4-8:00pm at The Moose Lodge, 11 Moose Lodge Way, Indian Head, Maryland 20640.