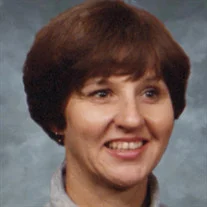 Janice Lamond Terrell Frauenfelder, 83, of Waldorf, MD passed away on Wednesday, March 9, 2022, at the UM Capital Region Medical Center, Largo, MD.

Born July 26, 1938 in Memphis, TN to the late James Terrell and Trumon Moss Upchurch Terrell Livingston, Janice is preceded in death by siblings Trumon Upchurch Hemmerle, Ramon Terrell, James Terrell, and Jeannie Livingston McDowell.

Janice will forever be remembered for her love of family and her outgoing and generous nature that touched the lives of all around her. She fellowshipped with Catholics, Baptists, Pentecostals, and Episcopalians during her life. During her teens, she was an accomplished pianist, both valedictorian and salutatorian of McCray-Dewey Township High School's Class of 1956, while proudly working at Mae's Diner in Troy, Illinois.

In 1956, Janice married her former husband, Harry Frauenfelder, and she lovingly embraced her new role as a Navy wife while raising her children on military bases in Guam, Illinois, California, Hawaii, and Maryland.

Moving to Indian Head in 1968, she taught kindergarten, Sunday school, and worked for various area businesses. Her 31-year career as a civilian employee at the Naval Surface Warfare Center led to many travels across the United States and to Israel. She visited Egypt. Moreover, she journeyed to Jordan to share her Christian faith.
In later years, she enjoyed reading, watching classic movies and British comedies, and talking with family and friends.

Janice is survived by four children, Renee (husband Garry) Cofer, and Harry (wife Mary), Brad (wife Glynda), and Ken (wife Jennifer) Frauenfelder. Predeceased by her great grandson Bryce Posey, she is survived by 9 grandchildren, 18 great grandchildren, 1 great great grandchild, and numerous relatives.

Visitation begins at 9 a.m. with a Mass of Christian Burial offered at 10 a.m., Monday, March 21, 2022 at St. Peter's Catholic Church in Waldorf, Maryland. Interment follows in the church cemetery.
In place of flowers, the family welcomes memorial contributions to the Catholic Relief Services, P.O. Box 17090, Baltimore, MD 21297-0303 to help the more than 2.9 million people in crisis in Ukraine.