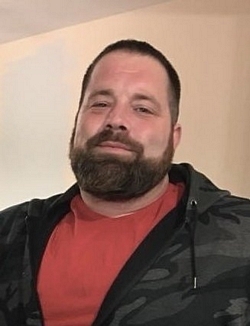 Stephen Michael Stanley, "Little Stevie" 35, of Jessup, Md., passed from this life on Wednesday, February 23, 2022.

Born on September 26, 1986, in Cheverly, Md., he was the son of Stephen Earl Stanley and Katherine Lynn DelVecchio.

Stephen graduated St. Vincent Pallotti High School in 2004 and worked at the family business with his father his whole life. He also enjoyed working out at the gym, but especially loved spending time with his family. His family was his world and his unique smile, laugh and big grizzly hugs will be missed but will always be remembered.

He is survived by his parents, Stephen Earl Stanley (Lisa DelRicco) of Lusby, Md. and Katherine Lynn DelVecchio (James) of Cape Coral, FL; the love of his life, Julie Ann Lis of Jessup, Md.; siblings, Heather Michelle Fiorenza (Justin) of Friendship, Md., Alyssa DelRicco of Huntingtown, Md., Nicole Nixon of Crofton, Md., Annette Smith of PA, and Jimmy DelVecchio of Baltimore, Md.; grandparents, Barbara Stanley of Lusby, Md., Katherine Ann Howell of Cape Coral, FL, Charles Lynn Cherry and Sharon Cherry of AZ, his nephews Landon Burck and Dominic Fiorenza; nieces, Ella Fiorenza and Ava Fiorenza of Friendship, Md., and many cousins, aunts and uncles. Stephen was preceded in death by his grandfathers Ronald E. Stanley of Lusby, Md. and Tom Howell of Boone, NC.

The family will receive friends on Saturday, March 12, 2022 from 10:30 am - 12:00 pm at the Rausch Funeral Home, 20 American Lane, Lusby, Md. 20657. Funeral Services will follow at 12:00 pm in the funeral home chapel with Deacon Chad Martin officiating. Interment will be private. A Celebration of Little Stevie's life will take place at 1:00 pm. at Vera's Restaurant, 1200 White Sands Drive, Lusby, Md. 20657.

Condolences to the family may be made at www.rauschfuneralhomes.com.