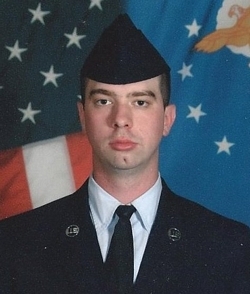 Dennis Lee Loeffler, Jr., 37 of Valley Lee, Md. passed away on February 21, 2022 at his residence.

Born February 22, 1984 in Towson, Md., he was the son of Dennis Lee Loeffler, Sr. and the late Denise Norma (Cayer) Loeffler.

Dennis graduated from Patuxent High School in 2001. He served in the U.S. Air Force from 2007 until 2011, serving in Anchorage, AK. After his military service, he was a Lead Aircraft Mechanic.

Dennis is survived by his father, Dennis Lee Loeffler, Sr. of Winchester, VA; his children, Megan Loeffler and Ava Loeffler; and siblings, Heather Stone of Ridge, Md., Theresa Smith of Drayden, Md. and April Thomas of Frederick, Md. He was preceded in death by his mother, Denise Loeffler.

A Memorial Service will be held on Saturday, March 19, 2022 at 2:00 p.m. at St. Paul United Methodist Church, Lusby, Md.

Condolences to the family may be made at www.rauschfuneralhomes.com.