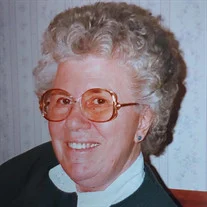 Priscilla May Woffenden Rich, 92, passed away peacefully surrounded by her loving family at University of Maryland Charles Regional Medical Center in LaPlata, Maryland on February 20, 2022.

Priscilla was born February 4, 1930, in Rowe, Massachusetts to the late John and Gladys Woffenden. She married the love of her life, Alan Holton Rich on October 20, 1962. They moved to the Washington, DC area and raised their family of four children in Fort Washington, Maryland.

After their children had grown, Priscilla did clerical work for the Federal Government until retiring to Eldersburg, MD. She and Alan spent many hours immersed in card games, playing the piano, and taking long drives on country roads. In her later years they were excited to move to a home close by family in LaPlata, MD.

Priscilla lived a life fully devoted to her family. She will forever be remembered for her kind and gentle nature that touched the lives of all those around her. She loved to crochet and cross stitch, and loved anything to do with her children and grandchildren, especially birthday parties and holiday gatherings. As soon as the party was over, she was busy planning the next one. Each year she put up her Christmas tree in November and didn't want to take it down until February. When she wasn't with her children and grandchildren, she was always thinking about them.

She will be extraordinarily missed by her adoring husband Alan, who loved and cared for her during their 60 years together. She is survived by their four children: Donald (and wife Rhonda) Rich of Laplata, MD, Diane (and husband Frank) Kaloustian of Bealeton, VA, Denise (and husband Raymond) Wells of Kitty Hawk, NC, and David Rich of Manchester, MD. She is also survived by her six grandchildren: Nicole Wells, Heather Wells, Rachel Rich, Dillon Rich, Katie Kaloustian and Kyle Kaloustian.

She was preceded in death by her sister, Marion Fulton.

The family is tremendously grateful to the staff of Sagepoint Senior Living Services for their devotion to Priscilla, who required support for dementia during her last few years. There are no adequate words to describe their patience and kindness.

A gathering will be held from 1:00pm-2:30pm, followed by a memorial service on March 12, at 2:30pm at Raymond Funeral Service Chapel.