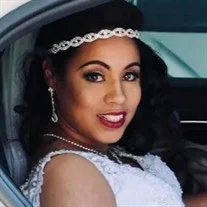 Crystal Nicole Smith was born to Jeffery and Doris Proctor on December 6, 1988 and passed February 14, 2022. Crystal graduated from La Plata High school, and worked for Alphabest for 14 years.

On June 18, 2016 she married Martane Smith and had three children with him; Daman, Makaio, and Mason. She was a loving mother, where she attended the kids' football and basketball games, where she cheered ever so loudly.

Crystal enjoyed having coffee in the morning with her mom, watching All-star weekend with her husband, cooking for her family, art, music, and all things beauty such as doing her hair and makeup. Tennessee is where she loved to vacation and spend time with her family, and in the summer being poolside. Christmas time was her favorite holiday, Crystal would round everyone up where she'd have games to play.

Crystal was the life of the party, anyone attending had a good time. Best Description of Crystal was strong, loving, sweet, courageous, and caring. She put her faith in God whole heartedly where she became a spiritual discerner of him.

Crystal is preceded in death by her grandparents James Leo Sr. and Mary Betty Thompson and, Milton and Mary Evelyn (Sissy) Proctor.

Crystal leaves behind her parents, husband, children, brothers Orlando Proctor (Brooke), and Domonique Proctor (Lisa), One niece Daylani Proctor. She also leaves her mother-in-law Paula Smith (Bruce), Father-in-law Kevin Marshall (Teresa), Sister-in-laws Kyra and Zenobia, Brother-in-law BJ Smith, Godparents Glayds Newman and Tyrone Proctor, Godchildren Amir Lyles, Amaris and Arman Savoy, and a host of aunts, uncles, cousins and friends.

Pallbearers will be Carl Gutrick Jr., Bryan Proctor, Justin Thompson, Lamont Smith, Rodney Smith, Tyrone Proctor, Bruce smith and Jacobi Smith.

Services will be held at St. Peters church on Thursday February 24, 2022. Viewing is 9am-10am with mass with Father Woods at 10 am. St. Peters is located at 3320 St Peters drive, Waldorf MD 20601.

Arrangements are entrusted by Raymond Funeral Service 5635 Washington Ave, La Plata MD 20646.