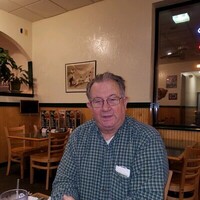 Harold Edward Cunningham, 80, of Mechanicsville, MD peacefully passed away on February 11, 2022 at the Southern Maryland Hospital in Clinton, MD.

Born in Boston, MA to Harold Benson Cunningham and Juliette Cunningham. After he graduated at Rhode Island High School, Harold landed a few jobs but didn't find his career till later. In 1961 he served his country proud by serving in the United States Air Force, being honorably discharged in 1965. After returning home, his kind heart and willingness to help other people, pointed him in the direction of being a great United States Park Policeman for 22 years before retiring. After retirement he started to work for the NSWC IHD as the Command Investigator for the United States Government for 10 years at the Naval Base in Indian Head, MD where he retired because of the Bracket List.

While in the Air Force, being station in Puerto Rico, Harold met his wife, Luz R. Cunningham "Felix". Together they went on to have two (2) children. Anyone who knew Harold knew that he was a loving, kind, strong and supportive father and husband that a family could ever ask for. Together they spend 39 years together before her passing in December, 2003.

Harold was also a passionate Crime Solver with a strong love for all animals. He would often donate to the Human Society to help as many homeless pets find their forever home. When he wasn't helping the Human Society, he would spend as much time as he could with his family and family, playing Dominos.

He is survived by his son Harold "Eddie" Cunningham, Jr. and his wife Kim of Maryland; his daughter Tina Marie Fisher and her husband John of Maryland; his sisters Ellen Cox of Florida and Janice Stivers of Georgia; and his two beloved grandchildren. He is preceded in death by both of his parents, Harold Benson Cunningham and Juliette Cunningham and his wife Luz R. Cunningham.

The family will be accepting friends for his Life Celebration Visitation on Tuesday, February 22, 2022 at Brinsfield Funeral Home & Crematory, P.A. at 30195 Three Notch Rd, Charlotte Hall, MD 20622 from 5:00 p.m. to 7:00 p.m. with Prayers at 7:00 p.m. officiated by Deacon Bill Kyte. Harold's Mass of Christian Burial Service will be on Wednesday, February 23, 2022 at Immaculate Conception Church, at 28297 Old Village Rd, Mechanicsville, MD 20659, officiated by Father Michael Tietjen, at 10:00 a.m. with interment at St. John's Catholic Church Cemetery, 43927 St Johns Rd, Hollywood, MD 20636, immediately following.